Limousine Service for Quinceañeras
A Quinceañera is a momentous occasion in any young woman's life. If you're making preparations regarding a special girl's upcoming fifteenth birthday, you need to be sure to take everything into consideration. It's important to consider party venues, catering, entertainment and even transportation. When you need five-star Quinceanera limo service in and around Modesto in California, no firm can make a finer choice for you than ours. Legacy Limousine Service, Inc. supplies customers in the area with special event transportation assistance that's top of the line. It doesn't matter if you're planning a Quinceañera, a baby shower, a retirement bash, a wedding reception or even a going away party. You can turn to our transportation assistance with full peace of mind.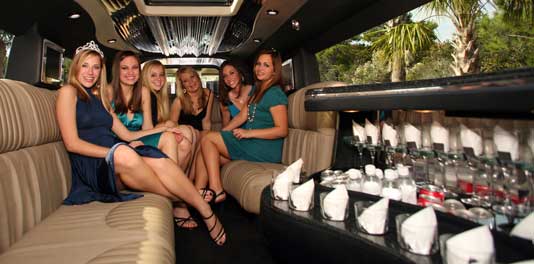 Top-Notch Modesto Limo Service
Legacy Limousine Service, Inc. can provide you with Modesto limousine service that's smooth, reliable, efficient and fully organized. We cater to groups big and small. We go above and beyond to provide our customers with rides that are safe, secure, cozy and welcoming as can be. If you want to travel to a party venue feeling like a million bucks, our team can make it happen for you. We can help you easily and swiftly get to any and all locations in Modesto. We can help you conveniently get to all locations surrounding the Stanislaus County city as well. Our business tends to customers who need to get to the finest event facilities in the entire community. We tend to those who need to get to all sorts of points of interest in the city in general. If you need to get to Tuolumne River, McHenry Mansion, Graceada Park, East La Loma Park, Funworks Modesto or the Clarion Inn Conference Center, we're accessible to help you out.
Top-Tier Limousine Service Experiences
Legacy Limousine Service, Inc. prioritizes nothing more than full customer satisfaction. We're incredibly proud of our fleet. Our fleet includes sizable vehicles that are bright, clean, fresh, airy and 100 percent modern. Our limousines feature some of the most impressive amenities available, too. We have professional chauffeurs who work in painstaking manners to please our customers. They're always prompt, courteous, knowledgeable and methodical. If you want to revel in Quinceañera limousine service that's perfectly punctual, luxurious and accommodating, Legacy Limousine Service, Inc. can make you smile. Our chauffeurs can melt all of your worries away quickly.
Reach Out to Legacy Limousine Service, Inc. to Make an Appointment
If you're searching for Modesto's best and most trustworthy limousine service for special events, Legacy Limousine Service, Inc. is here waiting to aid you. We make securing exemplary Quinceañera rides simple and rapid for our customer base. Our customers never have to worry about the logistics of special events. We do all of the hard work for them. Your job is just to take it easy and sit back and relax for the duration of your ride. Get in touch with our local company as soon as possible for appointment information. Call now!